The Giveaway!
Hey folks! For anyone unaware, I am currently running a giveaway on Twitter for five different signed ARCs and first edition books. Included in the giveaway are:
Wanderers by Chuck Wendig (signed ARC)
Gideon the Ninth by Tamsyn Muir (signed ARC)
The Nobody People by Bob Proehl (signed ARC)
The Only Harmless Great Thing by Brooke Bolander (signed 1st edition)
Miranda in Milan by Katharine Duckett (signed 1st edition)
How to Enter!
Unfortunately, this is US/Canada-only, as shipping costs rapidly become outrageous otherwise. To enter, all you need to do is follow me on Twitter (@BasiliskBooks) and retweet the giveaway tweet!
Five winners will each win one book. 
Entry ends on June 24th, so check it out soon. 

So, Tell Me More About These Books…
Wanderers by Chuck Wendig
My full review can be found here. I enjoyed this book and would highly recommend it to any fans of Stephen King's The Stand. It's a great look at the break-down of society during apocalyptic events as well as an insightful commentary on modern politics. 
From Goodreads: 
A decadent rock star. A deeply religious radio host. A disgraced scientist. And a teenage girl who may be the world's last hope. In the tradition of The Stand and Station Eleven comes a gripping saga that weaves an epic tapestry of humanity into an astonishing tale of survival.

Shana wakes up one morning to discover her little sister in the grip of a strange malady. She appears to be sleepwalking. She cannot talk and cannot be woken up. And she is heading with inexorable determination to a destination that only she knows. But Shana and are sister are not alone. Soon they are joined by a flock of sleepwalkers from across America, on the same mysterious journey. And like Shana, there are other "shepherds" who follow the flock to protect their friends and family on the long dark road ahead.

For on their journey, they will discover an America convulsed with terror and violence, where this apocalyptic epidemic proves less dangerous than the fear of it. As the rest of society collapses all around them–and an ultraviolent militia threatens to exterminate them–the fate of the sleepwalkers depends on unraveling the mystery behind the epidemic. The terrifying secret will either tear the nation apart–or bring the survivors together to remake a shattered world. 
Gideon the Ninth by Tamsyn Muir
I've only just recently started this novel, but I can tell you one thing already: this is full of glitz, glam, bones, swords, and fun. You want lesbian necromancers in space? You want a swordswoman with a penchant for porn mags? You got 'em. 
From Goodreads: 
Gideon the Ninth is the most fun you'll ever have with a skeleton.

The Emperor needs necromancers.

The Ninth Necromancer needs a swordswoman.

Gideon has a sword, some dirty magazines, and no more time for undead bullshit.

Tamsyn Muir's Gideon the Ninth unveils a solar system of swordplay, cut-throat politics, and lesbian necromancers. Her characters leap off the page, as skillfully animated as necromantic skeletons. The result is a heart-pounding epic science fantasy.

Brought up by unfriendly, ossifying nuns, ancient retainers, and countless skeletons, Gideon is ready to abandon a life of servitude and an afterlife as a reanimated corpse. She packs up her sword, her shoes, and her dirty magazines, and prepares to launch her daring escape. But her childhood nemesis won't set her free without a service.

Harrowhark Nonagesimus, Reverend Daughter of the Ninth House and bone witch extraordinaire, has been summoned into action. The Emperor has invited the heirs to each of his loyal Houses to a deadly trial of wits and skill. If Harrowhark succeeds she will be become an immortal, all-powerful servant of the Resurrection, but no necromancer can ascend without their cavalier. Without Gideon's sword, Harrow will fail, and the Ninth House will die.

Of course, some things are better left dead.
The Nobody People by Bob Proehl
So far, I've only read a few pages of this one. The prose immediately stuck out to me, however; if you're a fan of books with beautiful and descriptive writing, I'd say this is one to look at. 
From Goodreads:
After decades in hiding, a group of outcasts with extraordinary abilities clashes with a world that is threatened by their power.

When Avi Hirsch learns that his daughter Emmeline has special abilities, he tries to shield her against an increasingly hostile society. Carrie Norris can become invisible, but all she wants is to be seen by the people she loves. Fahima Deeb has faced prejudice her entire life, but her uncanny connection to machines offers her the opportunity to level the playing field. These are just a few of the ordinary nobodies with astonishing gifts who must now band together against bigotry and fear, even as one of their own actively works to destroy a fragile peace. Will their combined talents spark a much-needed revolution–or an apocalypse?
The Only Harmless Great Thing by Brooke Bolander
My full review of this novella can be found here. I truly cannot recommend this book enough. It's gorgeous in every possible way. It's heart-rending, genuine, and will absolutely break you down. 
From Goodreads: 
In the early years of the 20th century, a group of female factory workers in Newark, New Jersey slowly died of radiation poisoning. Around the same time, an Indian elephant was deliberately put to death by electricity in Coney Island.

These are the facts.

Now these two tragedies are intertwined in a dark alternate history of rage, radioactivity, and injustice crying out to be righted. Prepare yourself for a wrenching journey that crosses eras, chronicling histories of cruelty both grand and petty in search of meaning and justice.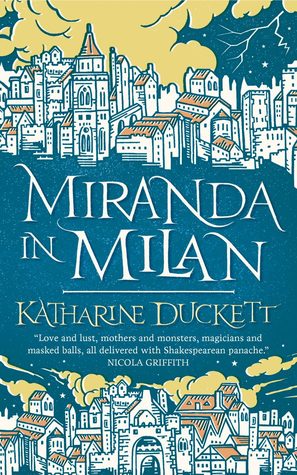 Miranda in Milan by Katharine Duckett
I haven't yet cracked this one open, but I've literally heard nothing but good from my friends who've read it. If you've ever wondered how a queer sequel to Shakespeare's The Tempest might go, this is the book for you. 
From Goodreads:
After the tempest, after the reunion, after her father drowned his books, Miranda was meant to enter a brave new world. Naples awaited her, and Ferdinand, and a throne. Instead she finds herself in Milan, in her father's castle, surrounded by hostile servants who treat her like a ghost. Whispers cling to her like spiderwebs, whispers that carry her dead mother's name. And though he promised to give away his power, Milan is once again contorting around Prospero's dark arts. With only Dorothea, her sole companion and confidant to aid her, Miranda must cut through the mystery and find the truth about her father, her mother, and herself.
To enter the giveaway:
Follow me on Twitter (@BasiliskBooks)
-AND-
Retweet the giveaway tweet!
Entry ends on June 24th